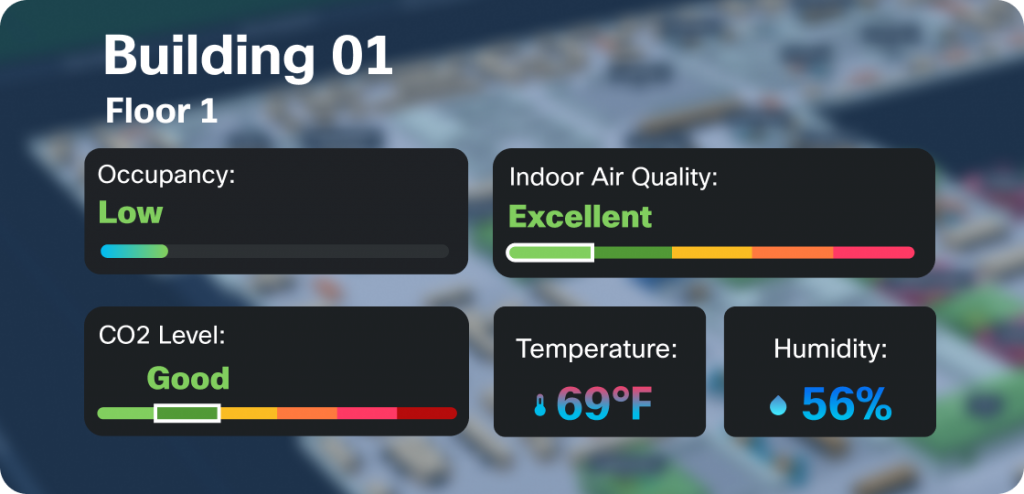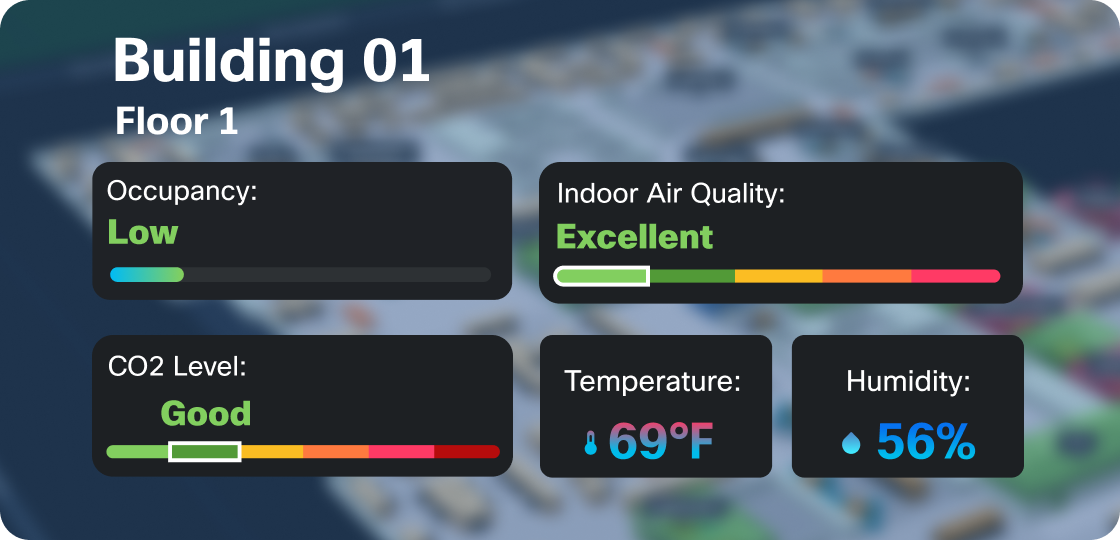 Smart buildings are becoming increasingly important in today's work ecosystem. They have integrated building systems (such as HVAC, lighting, alarms and security) in a single, IT-managed network infrastructure. They often use foundational technology such as Power over Ethernet (PoE) to accomplish this convergence. While smart building solutions have made a big difference in optimizing energy usage, they continue to evolve and have expanded into a wide array of helpful applications, from contact tracing to asset tracking.
How does a smart building work?
A smart building collects actionable data from user devices, sensors, building systems and services on the premises. By applying that data using artificial intelligence and machine learning (AI/ML), this programmable building becomes responsive to the needs of its users. The network's intelligence also helps network security. For instance, the network can identify and segment devices, learn their users' behavior and improve the detection of anomalies and intrusions.
Smart building solutions
Smart building solutions cover a range of use cases, from Occupancy Monitoring to Wi-Fi Onboarding, Indoor Wayfinding and more. No matter the industry, smart building technology provides valuable benefits.
Occupancy Monitoring
Occupancy monitoring works using tools like sensors, cameras or other technology connected to your network, collecting real-time data. Building managers across all industries stand to gain a lot from these smart building technologies. With them, they can:
Monitor real-time people count.
Set occupancy and density thresholds.
Enable real-time alerts when thresholds are exceeded.
Drive contactless experiences to enhance visits.
Understand space utilization.
This eliminates the need for manual counting or other inefficient strategies. Occupancy monitoring is especially useful in the healthcare industry, where social distancing and limited occupancy can increase safety of healthcare providers and patients. It can also be useful across campuses, workplaces, event venues and other spaces where crowd control is important.
Wi-Fi Onboarding
Wi-Fi onboarding can be a unique touchpoint to deliver a seamless experience for your new and repeat customers – while you collect valuable data. Unlock easy onboarding with a combination of Captive Portals and OpenRoaming (two native apps integrated in the Cisco Spaces platform), which help you to:
Offer a zero-touch, security-focused onboarding experience for people in your buildings.
Provide better indoor Wi-Fi coverage and reliability.
Give new customers differentiated onboarding experiences and contextual engagements.
Collect customer and operational insights.
Gain revenue for Wi-Fi offloading.
The efficiency of zero-touch onboarding can benefit companies across all industries. Retail and hospitality, for instance, can collect customer data and deliver contextual engagements like personalized special offers, to enhance customer experiences.
Contact Tracing
In a post-pandemic world, it's important to be able to respond rapidly to health and safety incidents. With Cisco Spaces for contact tracing, companies can keep their employees, visitors and customers safe, in a secure and anonymous way. The Proximity Reporting app from Cisco Spaces shows a person's location history and their proximity to other people's devices in the same area during the same time. This allows you to:
Identify contact-related health risks for your employees, customers and visitors.
React immediately to isolate and contain the spread of COVID-19 and other contagious diseases.
Notify people about any potential exposure to a contagious health risk.
By relying on accurate location data and automated alerts, contact tracing becomes easier to do and scale. While it's primarily used for health risks, it's not limited to the healthcare industry. This solution is important to all industries, especially those where people are in close contact. And with the ease of scaling, it's especially beneficial for large spaces with high footfalls.
Indoor Wayfinding
Users navigating office buildings, airports, large retail spaces and hospitals often have to deal with wayfinding challenges. An indoor navigation system that works with your existing network can help deliver an unparalleled visitor experience.
With this system in place, you can:
Help users quickly navigate to spaces (for example, conference rooms) within your buildings in real time.
Provide interactive experiences through intuitive, high-resolution digital maps.
Gain accurate visibility and insights on your visitors, staff and assets.
Environmental Monitoring
A lack of real-time environmental monitoring in a space means there is no data with which to optimize the use of energy and utilities, which costs companies money. When you implement devices like BLE, motion and thermal sensors, you can collect environmental data. With a smart solution like Cisco Spaces, facility staff can use this data to automate operational processes (for example, turning lights on and off depending on room occupancy, as captured by the sensors) to increase efficiencies and cut costs.
Environmental monitoring enables you to:
Set up alerts and automated responses for when conditions are not within acceptable thresholds.
Inform users of air quality, humidity and temperature through alerts or digital signage.
Leverage AI/ML to learn space utilization patterns and adjust conditions accordingly.
Between the host of BLE devices and apps on Cisco Spaces, you can cut costs and enhance visitors' comfort.
Personalized Customer Engagements
Delivering personalized customer engagements in real-time can set your business up for success. Transform in-person interactions by leveraging smart building solutions to:
Create meaningful customer segments based on people's behavior at a certain location.
Develop relevant, contextual engagements based on location personas.
Send multichannel notifications to impact purchase and enhance the customer experience in real time.
You can achieve this benefit with Cisco Spaces' native apps like Engagements, Captive Portals and Location Personas. Thanks to the data insights and real-time capabilities of these apps, you can create improved customer experiences in a seamless, efficient manner.
It's Time to Re-Imagine Your Buildings
With smart building solutions, you're ready to optimize anything from space utilization to costs to customer experience. Ready to reimagine your buildings? Take the next step with Cisco Spaces.
Want to turn your office into a smart building? Try Smart Workspaces.