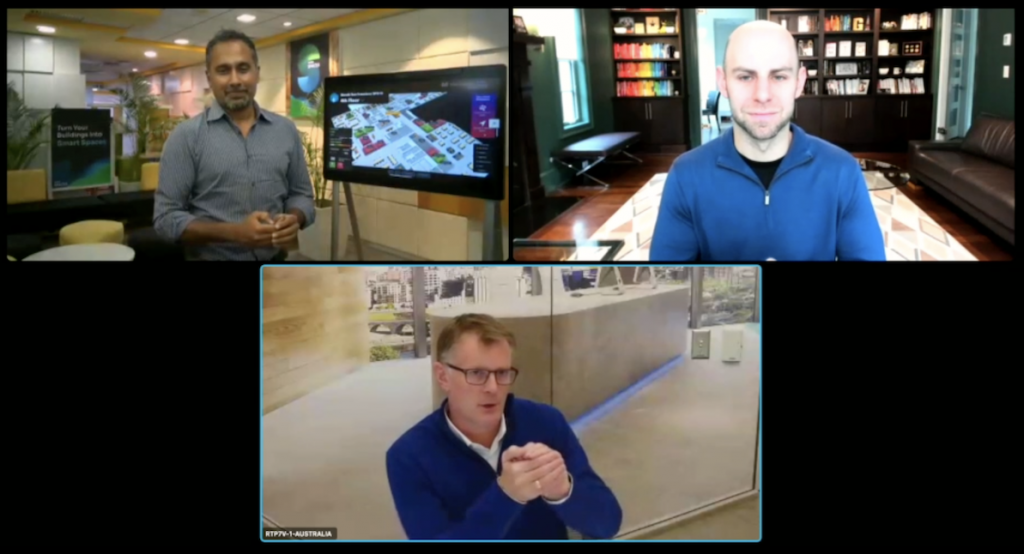 It's said that a lot can happen over a conversation. And on October 4, three of the smartest minds in their respective fields came together for a chat that was in equal parts informative, insightful and inspiring. A New York Times bestselling author, the keynote speaker of the hour-long webinar, Adam Grant drew in more than 3,500 eager listeners. Joining him in an engrossing conversation were SVP, Workplace Resources, Cisco, Christian Bigsby and Head of Product, Cisco Spaces, Rajesh Reddy. Their topic of discussion? Something more relevant today than it has been in decades gone by: The Future of Work & Workspaces.
So, why talk about the future of work now?
As Rajesh rightly pointed out, "Never since the industrial revolution 200 years ago, has the definition of 'going to work' undergone such a fundamental reset." Post pandemic, businesses worldwide have been forced to rethink what a workspace means. We call this the market inflection point, where enterprises began to rethink the physical workplace and its purpose in the future of work.
No wonder then, that the webinar saw in attendance, IT, Facilities management and other executives from over 2,000 enterprises from over 100 countries. It is, after all, these teams that have been tasked with the job of reconfiguring workspaces, to make them safer and more conducive to productivity, while offering an employee experience that makes commuting to work, worth it. These are just some of the basic requirements of a system of work that has been embraced worldwide, today – hybrid work. And if hybrid work is the future, what then, is the future of hybrid work?
People + Spaces + Technology = Hybrid Work
To understand the future of hybrid work, one first needs to understand the components of a hybrid workplace – people, spaces and technology.
Understanding people: The workforce is undoubtedly the most important part of any workplace. And in a hybrid setup, understanding people involves moving away from a 'one size fits all' approach and embracing the fact that not all employees function the same way. While some are more productive in the morning, others may do their best work later in the day. Some employees may be working on projects that require collaboration with other teammates, while others may not. Some might need more frequent access to meeting rooms and collaboration devices than others, and so on.
Understanding spaces: Physical spaces are no longer just about housing a workforce. Hybrid workspaces need to cater to individual and collective needs of employees, while also remaining sustainable. Spaces should make employees feel safe. Spaces should be easily accessible to those who need them most, when they are needed the most. Spaces should neither be underutilized nor overutilized. Spaces need to be flexible and fluid.
Understanding technology: No two enterprises are the same. So it goes without saying that technology, which is the backbone of a hybrid workplace, cannot be the same. If technology is to successfully support and facilitate hybrid work, it must be tailored to suit the unique needs of a particular workplace. Enterprises should ask themselves what their exact business goals are or what problems they need to solve. Do they need an effective asset management system? Does the workforce require workplace navigation assistance? Is there a need for temperature regulation or environmental monitoring? What sort of safety measures do they require, and so on.
During the webinar, our panel of experts discussed the complexities of each of these components with anecdotes from their experience in the field. Here are some of the key takeaways…
1. Employee behavior must be learnt
"We should A/B test as we build the future of work. This is the ideal moment to test and learn, to run more pilots, to iterate based on what you discover."

– Adam Grant
Why learn employee behavior? Because studying employee behavior is the gateway to understanding and predicting their needs. And only when the needs of the workforce are understood, is it possible to build workspaces that cater specifically to these needs, such as remote collaboration tools or recreational facilities.
2. Decision making should be data-driven
"The composition of real estate has to change. Facilities need better data and insights. Our buildings and our spaces need to become living laboratories."

– Christian Bigsby
People still expect services such as food and maintenance at the workplace. But they are expecting it very differently today. Housekeeping, for example, now needs to take into account actual usage and not just stick to a predefined schedule. This requires reliable data on usage. Similarly, space optimization, too, requires dependable data and insights for informed decision making.
3. Workspace visits need a purpose
"You have to be clear why you are bringing people to a physical location. There needs to be adequate variability and differentiation of spaces in that physical location, because people are doing different activities during the course of the day."

– Christian Bigsby
"Showing up in a physical space is to collaborate and more than that, to build community and culture. What is the common mission? What are our shared values and goals? That gives me the sense that I am contributing to something larger."

– Adam Grant
You do not need to come to work to access a computer in 90 per cent of countries and markets any longer. Attendance is not a proxy for productivity. So, enterprises need to give employees concrete reasons or a purpose to visit the physical workspace. Creating a workplace that is suited to various purposes (collaboration, events, team building, etc.) is key to achieving this.
4. The right technology is key
"How do facilities and IT teams work together to support the transition to hybrid work? Cisco Spaces comes in as the solution."

– Rajesh Reddy
Cisco's network hardware is deployed across tens of billions of square feet of enterprise space today. Our network and collaboration devices are capable of working as sensors that can provide data. By turning on Cisco Spaces on your Cisco network, you are able to offer two things – employee facing benefits such as the provision to know desk and room availability, air quality, occupancy, etc, and a way for facilities teams to manage, maintain and configure spaces, using data.
Experience Cisco Spaces, now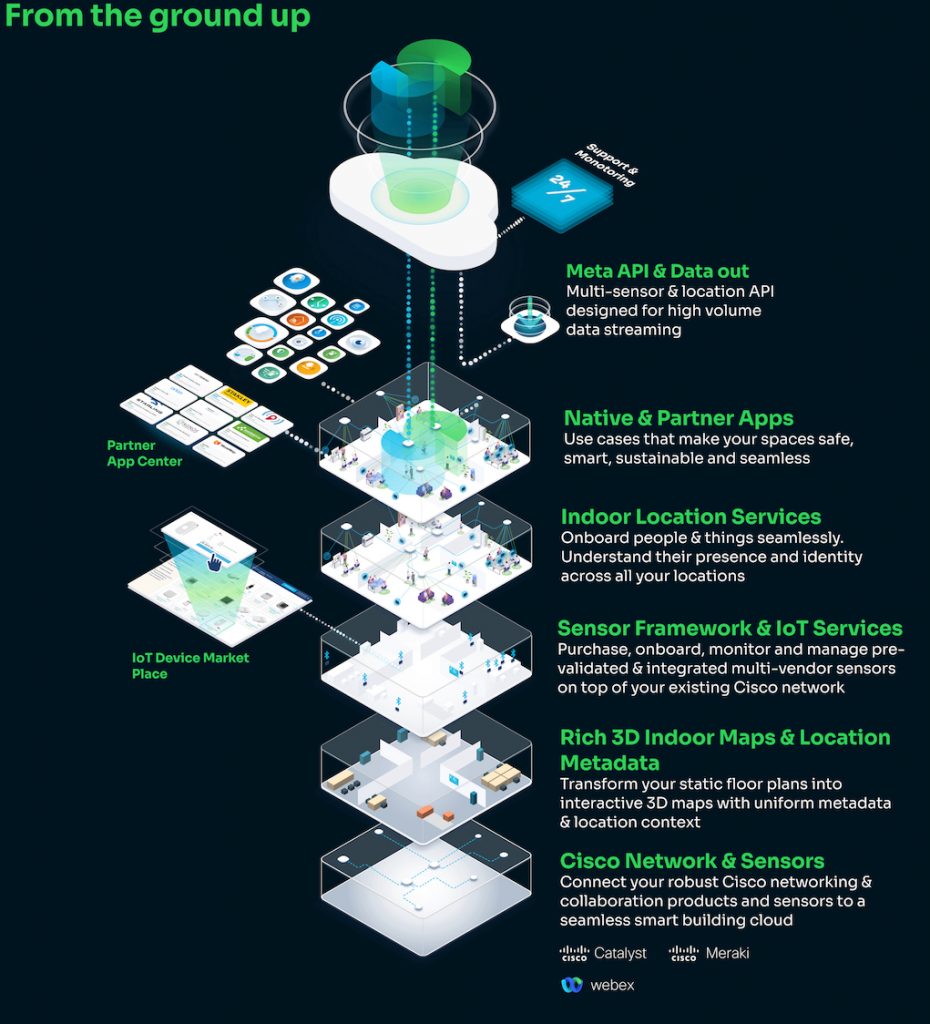 Perhaps the most important point that the speakers made during the webinar, was the need for enterprises to start experimenting in order to figure out their individual and unique hybrid work requirements. And Cisco Spaces provides you with all the tools you'll ever need to do this. Using the power of your Cisco devices as sensors (Catalyst, Meraki, Webex) and the Spaces ecosystem, Cisco Spaces can help you…
Create a better employee experience: Transform flat floor plans into dynamic, interactive and intuitive 3D maps that provide contextual awareness. Make it easy to locate points of interest.
Boost employee productivity: Display live meeting room and desk availability, along with key environmental parameters such as temperature, humidity and noise.
Understand space utilization: Know how space is being used and make informed decisions to improve utilization and optimize real estate.
Create safe and healthy spaces: Get real-time occupancy and air quality updates, alerts to create safe spaces and support employee wellbeing.
Get started with a pilot at one of your buildings (as low as 10c per sq ft. That's only USD 10K for 100,000 sq ft). You can also discover Cisco Spaces by visiting a live demo center or scheduling a virtual demo. Visit smart workspaces and experience spaces today.