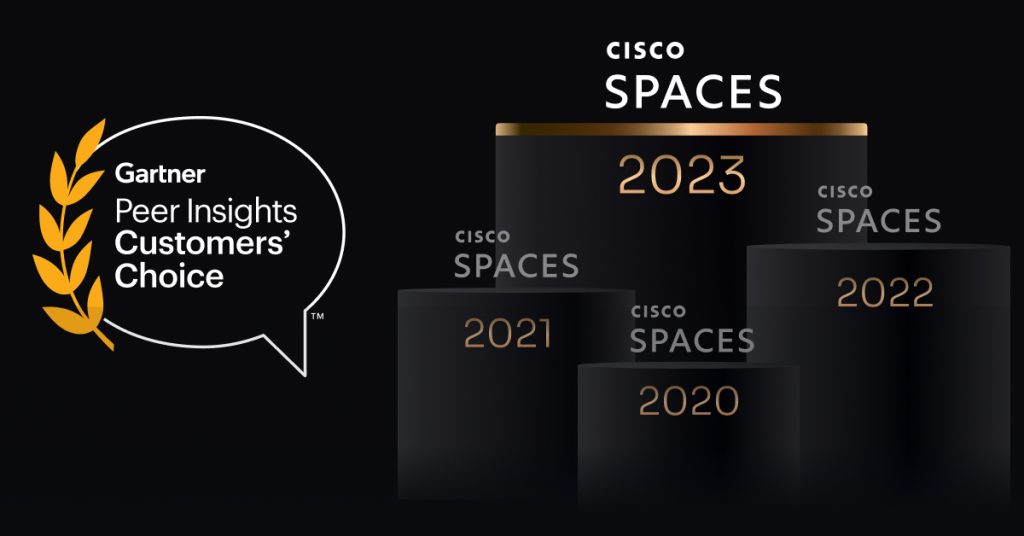 What a phenomenal run it has been! We're excited to announce that for the fourth year in a row, Cisco Spaces has received the Customer's Choice Distinction in the Gartner Peer Insights "Voice of Customer" review. We are delighted and humbled by this milestone, which would not have been possible without the trust of our real superheroes- our customers.
Cisco Spaces began with a simple vision to make buildings smarter. Crafting them into safer, seamless and more sustainable spaces. We're on a mission to digitize physical spaces, and in 4 years since its launch, Cisco Spaces has already covered 9.5 billion square feet of commercial buildings world-wide (you read that right!). In perspective, that's 80% the size of New York City and 40% the size of London.
For the fourth time in a row, Cisco Spaces has been recognized as a market leader in the Gartner Peer Insights Indoor Location Services category. We are delighted to share that our customers have rated us 4.5/5 overall with a whopping 140+ total ratings and 91% of them 'willing to recommend' Spaces to their peers and other customers.
Gartner uses a robust methodology to rank the best players in the market. Their 'Voice of Customer methodology quadrant' depicts a wide-angle view of technology providers who are graphed based on their 'User Interest and Adoption' and 'Overall Experience'. Cisco Spaces shines bright on both and has secured the leader position in the Customer's Choice Quadrant in the Indoor Location Service category.
Why did our customers choose us?
Speed & simplicity of implementation :
Our consistent focus on PLG (Product Led Growth) has ensured that Cisco Spaces dashboard onboarding and setup capabilities far outperform our competitors. Almost 30% of our reviewers vouched for the simplicity of setting up the platform, admitting that implementation takes no more than 30 minutes – you could get it done in as little time as a lunch break! This includes, importing your network, setting up location hierarchies, configuring time zones and uploading maps.
Spread of use-cases that drive instant value : 
With Cisco Spaces, IT users can find rogue devices, locate lost assets, and understand client density per floor using an interactive map. Real Estate users garner occupancy on a building/floor/room level, both real time and historical. Operational Technology (OT) teams leverage Cisco Spaces for infant tracking and to recognize staff duress in healthcare and manufacturing environments. Marketing teams use Cisco Spaces for at-location loyalty engagements (with or without a mobile app) with customers. Today, Cisco Spaces creates moments that matter for all types of people in your buildings – people who operate them (IT, OT, Real Estate, Facilities, Loyalty & Marketing) & people who use them (Employees, Guests, Customers, Visitors). With 25+ native apps on our cloud dashboard and 50+ apps on our App Center built by independent software vendors (ISVs), we have a use-case for every industry and function.
Speed of product innovation: 
From our humble beginnings of Real-time Location System(RTLS)/Indoor Location Services, Cisco Spaces has pioneered the smart spaces category in the industry. In 4 years, our platform has evolved to solve for for hybrid work (building/floor/room occupancy, digital maps, meeting room finder ), sustainability (energy optimization based on actual occupancy), asset tracking (Wi-Fi, BLE), staff duress (panic button, infant monitoring, silent alarm) and at-location contextual visitor experiences (guest Wi-Fi onboarding, contextual engagements, visitor segmentation, mobile SDK, OpenRoaming).
Ease of Integration: 
Creating a Smart Space involves multiple integrations and interfaces. This is where Cisco Spaces shines. 'All-in-one' is a phrase that perfectly describes Cisco Spaces, when it comes to ease of integration, that helps enable a multitude of use cases and capabilities. Over 30% of our reviewers cited flawless integration of the product with wireless access points, connectors and controllers, as well as seamless pulls from APIs. Our customers have expressed excitement around seamless integration with third party partner apps that include industry leaders such as Securitas healthcare, Kontakt.io, Pointr, Honeywell, IBM Tririga, Schneider Electric, etc.
24*7 Proactive monitoring and Support with End-User Training 
Spaces offers 24X7 Proactive Monitoring and Support, across the full lifecycle (Day 0-1-2). Customers find our user friendly Setup Guide and video tutorials as strong pillars of on-demand support. They have also lauded the 1-on-1 dedicated assistance provided by our technical onboarding and support teams on multiple occasions.
Let's hear it from our customers: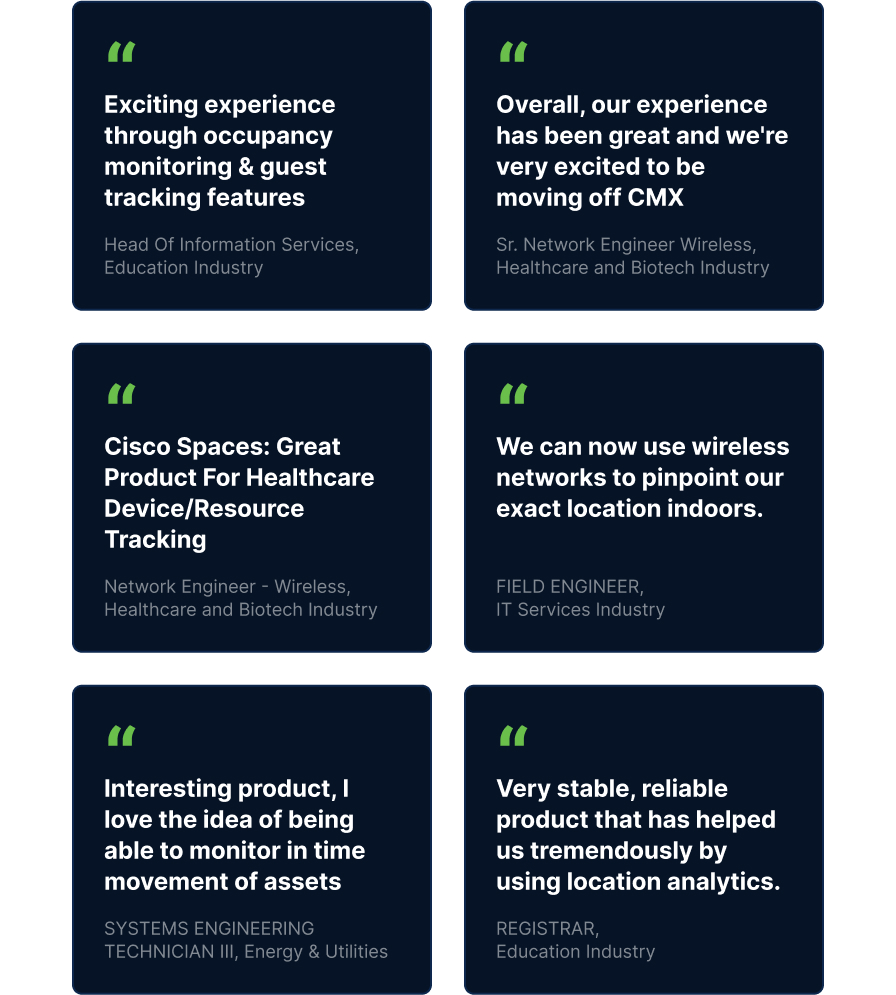 Embracing the future of buildings
We couldn't be more thrilled to continue exceeding our customers' expectations as we celebrate four years of recognition. We equally celebrate our customers and our entire community for their continued feedback and trust. Let's make our buildings safer, smarter, seamless and sustainable for the years to come, creating a new future of buildings together!
To learn more about Cisco Spaces