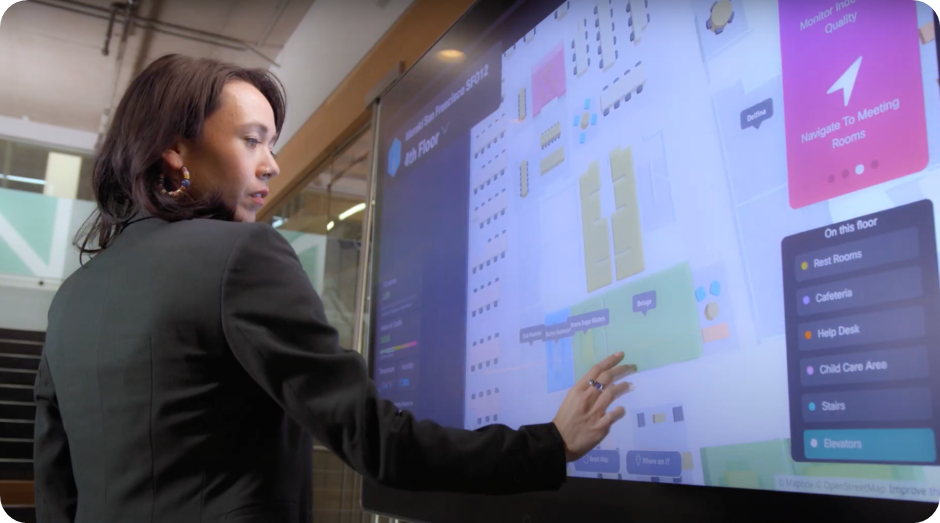 Monitoring workplace occupancy can help organizations tap into a world of insights and drive safer, more efficient employee experiences, without compromising on privacy. Occupancy monitoring can be used for automating mechanics (doors and lights), gathering useful metrics (monitoring availability of desks and analyzing office space utilization) and more. Using occupancy metrics, enterprises can turn regular spaces into smart spaces. Occupancy metrics are especially crucial for providing a safer employee experience by facilitating social distancing and safety compliance.
Why occupancy metrics matter
The following are just some of the ways understanding occupancy can deliver better experiences for both employers and employees…
Employer benefits
Employers across all industries stand to gain from occupancy monitoring tools. With them, employers can:
Monitor real-time people count
Set occupancy and density thresholds
Enable alerts when thresholds are exceeded
Drive contactless experiences
Understand space utilization
These capabilities help employers keep teams safe, streamline cleaning and sanitization, approach space planning with better insights, save energy costs thanks to automatic environmental adjustments (for example, lights and temperature), gain insights into visitor behavior, and more.
Employee benefits
By making occupancy information available to employees, employers can build trust and reassure employees that the building is safe to enter.
Also, Because employers can set density thresholds and triggers, employees in smart offices can be notified when occupancy in a space exceeds the threshold, making it easy to comply with social distancing.
Occupancy sensors in meeting rooms also help employees find available meeting rooms and open desks easily. This empowers employees to easily find the space they need to be productive.
Efficiency & safety through occupancy metrics
Here's how occupancy monitoring is used with Cisco Spaces…
Smart workspaces
Employees can end up wasting a lot of time searching for open conference rooms, desks or other workspaces. Spaces solves this challenge with Smart Workspaces. With Cisco Smart Workspaces and location aware Rich Maps, it becomes easy to find a vacant room, effectively saving time and increasing productivity. Smart Workspaces also gives employees a sense of overall occupancy and air quality across buildings, floors.
How the technology works
An employee needs to find a room for an upcoming meeting but doesn't want to waste time peering into various conference rooms. Using Smart Workspaces, the employee can visualize available meeting rooms on a Webex Board, get more information on the meeting room ( capacity,current occupancy status, environment, etc. ) as well as place the room on a temporary hold until they walk over. Smart Workspaces leverages data from Catalyst Access Points and Switches*, Meraki wireless and MT, Webex devices as well as third party wireless and wired sensors* (*roadmap) to enable smarter, safer spaces.
Space utilization analytics 
With the Cisco Spaces suite of analytics apps, you can harness all the power and intelligence of your sensors to…
Check real-time behavior data and people count across your properties with the Right Now Metrics app
Also get notified immediately via text, email, chat or digital signage, when a safe occupancy threshold is crossed
Measure the impact of events or layout changes on behavior or outcomes with the Impact Analysis app
Facilitate contact tracing, to create a safe office with the Proximity Reporting app and more.
The possibilities are endless!
How the technology works
An employer is creating a strategy to reopen and get people back into work safely and comply with COVID-19 restrictions. With Right Now metrics, it's easy to see how many people are in each room or building, and keep occupancy levels compliant with regulations. As health and safety guidelines change, real-time occupancy data can help make adjusting thresholds and monitoring traffic a breeze.
Request a demo to see how Cisco Spaces can help your workplace
As you and your teams return to work, it's important to have the tools you need to make your workplace safe, smart, and secure. Spaces is poised to deliver all this. From finding open desks to ensuring employees can maintain social distancing, occupancy sensors can help your business stay safe, efficient and productive. Discover what Spaces can do for you…
Watch a demo of Smart Workspaces today!