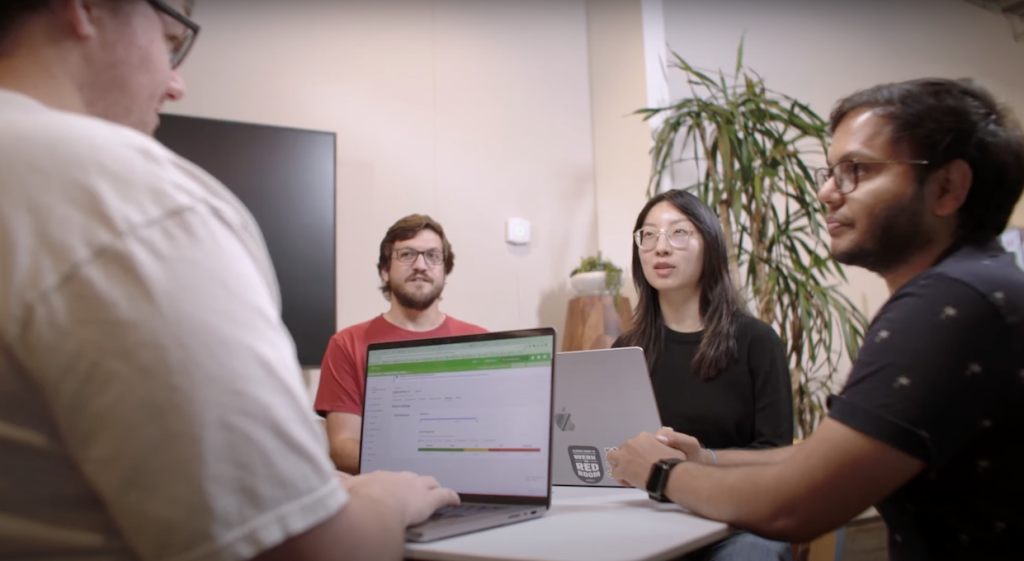 In a world where we spend a staggering 90 percent of our lives indoors, it's astonishing how often we overlook the quality of the air we breathe. The importance of maintaining a healthy indoor environment cannot be understated, especially as emerging research suggests a direct link between indoor carbon dioxide levels and our everyday performance and well-being.
In light of this, Cisco has launched its first-ever CO2 sensor. It's the highest performing air quality sensor till date – with the ability to monitor 6 environmental metrics (including real CO2), to enable optimal learning in schools and universities and working environments in offices.
Before we delve into the capabilities of the sensor, let's take a moment to understand why this is so crucial.
Why is Understanding Air Quality & CO2 Vital?
Impact on Productivity in Offices: Harvard T.H. Chan School of Public Health research reveals that a 500 ppm CO2 increase slows employee response times by 1.4-1.8%. This is part of a broader concern known as 'sick building syndrome', affecting up to 1.2 million commercial buildings. Improving ventilation to lower CO2 levels in office spaces can enhance worker performance and comfort.
Correlation with Performance in Education: Elevated CO2 levels also impact student learning, given that students spend a large portion of their time in classrooms. MIT's study links poor indoor air quality to lower test scores. In some regions, 1 in 8 classrooms exceed safe CO2 levels.
Legal Implications: Governments in the UK, France, Netherlands and some American states like California and Colorado, now mandate CO2 monitoring in schools, emphasizing its impact on academic performance. California's AB 2332 recommends imposing a state-mandated local program involving the adoption of CO2 monitors in classrooms to provide the minimum ventilation rate, based on several reports that show elevated CO2 levels cause drowsiness and inattention.
Monitoring Carbon Dioxide & Indoor Air Quality in buildings made easy
MT15, Cisco's latest addition to the Meraki MT sensor family, intelligently monitors indoor environments to help organizations build a smarter, more sustainable future. Leveraging Bluetooth® Low Energy technology, the MT15 sensor offers precise CO2 monitoring and also sends instant alerts when CO2 thresholds are exceeded, enabling relevant teams to respond rapidly.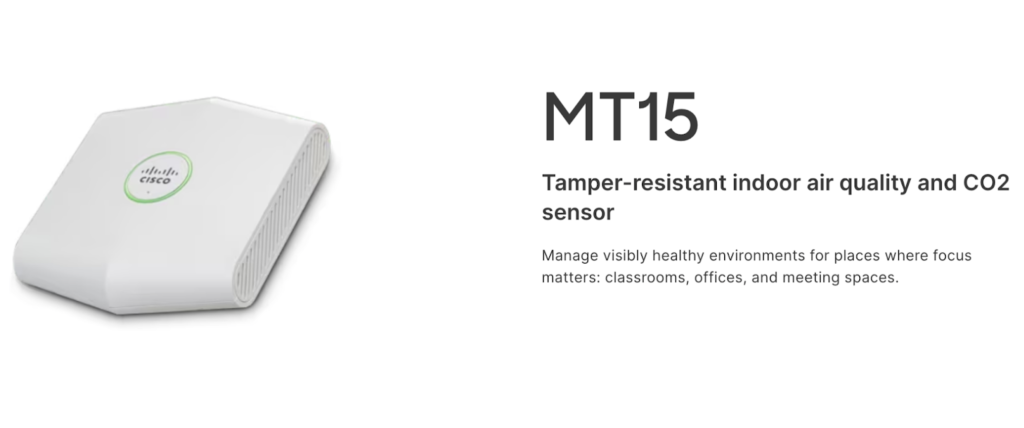 MT15 features:
Real CO2, TVOC, PM2.5, temperature, humidity and ambient noise sensing
LED visual indicator to provide information about the air quality to the people in the room
Flexible power options, including both a USB-C and PoE port on the device, which are positioned so that cables can be hidden
Sample polling every 30 seconds
Email, SMS and push alerts, so you never miss an important alert
Visualize and Analyze CO2 & Indoor Air Quality with Cisco Spaces
For Employees & Visitors: Cisco Spaces leverages the power of Meraki's latest CO2 sensor, the MT-15, alongside its air quality sensors such as the MT-14 and MT-10, to take indoor wellbeing and safety to a whole new level. With the ability to provide real-time updates on CO2 levels and air quality, employees can now stay well-informed about the environmental conditions within the building, floor or meeting room. But that's not all – Spaces combines these valuable insights with a location-aware 3D map and real-time occupancy information, to create a seamless and enriched employee experience, ultimately boosting wellness and productivity.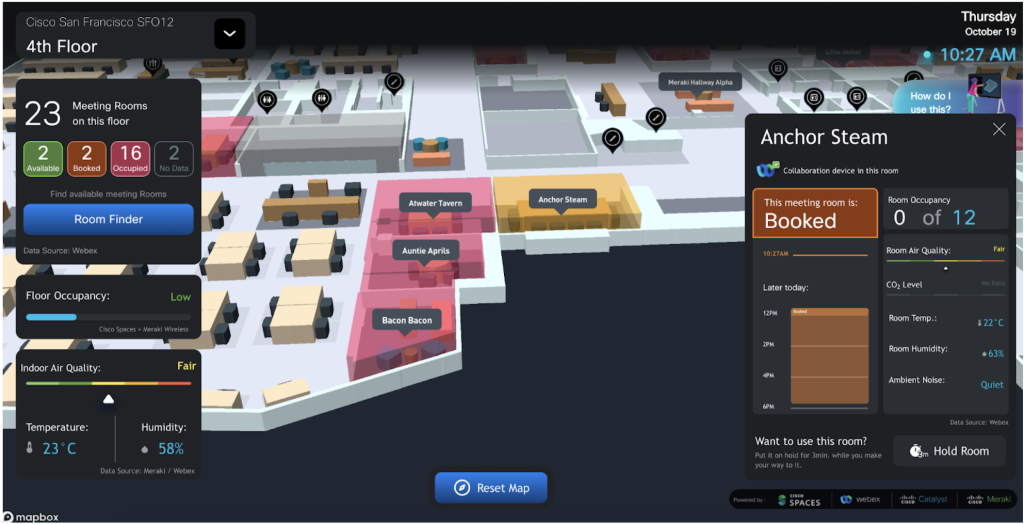 For IT, Facilities & Operations Teams: IT, Facilities, and Executive teams are now equipped with the tools and data they need to create safer, more efficient, productive spaces. In addition to keeping track of key environmental factors that affect people's health and productivity, Spaces allows customers to combine MT sensor data with occupancy and environmental analytics from Cisco Catalyst, Meraki and Webex devices.
Real-Time Monitoring: At a glance, you can see your CO2 and air quality data displayed on digital floor plans and gain real-time insights into the ambient conditions in individual rooms and spaces.

Historical Trends: View and analyze detailed environmental trends at your workplace – air quality, temperature, humidity, CO2, noise, etc. and receive updates on deviations and anomalies, so Facilities teams can schedule maintenance and adjust valves, fans, filters, or controllers as needed. In addition, this data can be exported and utilized for reporting purposes, building certifications and also to ensure building systems are operating as expected.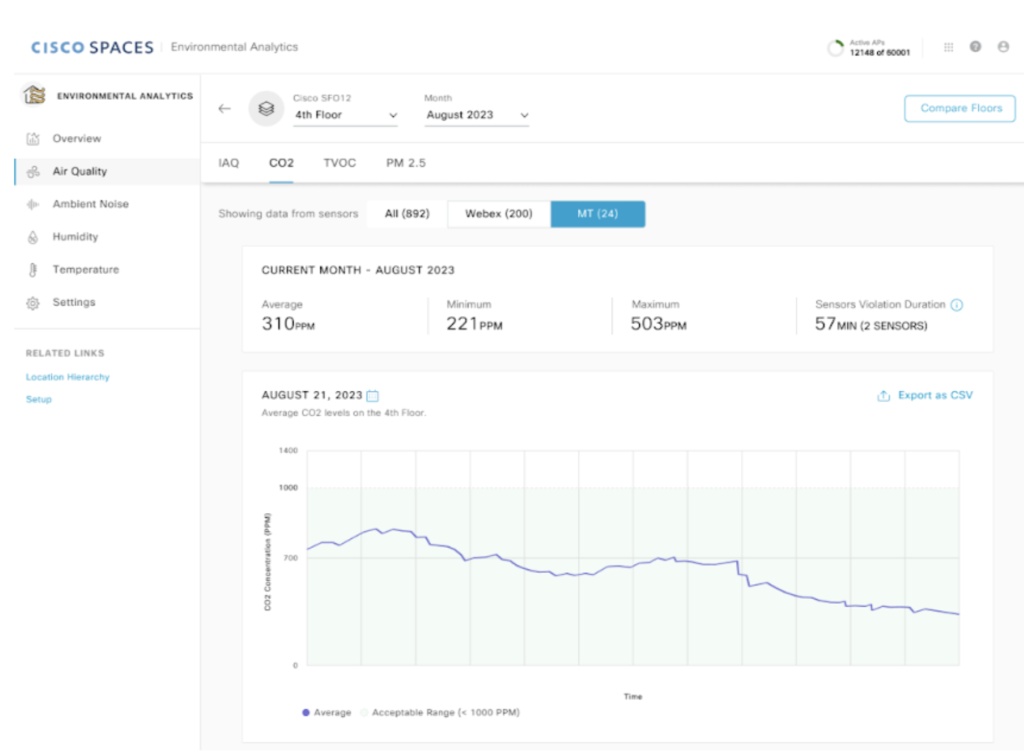 ---
Ready to reimagine your work and learning spaces? Get in touch here.
Additional Information:
Cisco Spaces Smart workspaces: https://spaces.cisco.com/smart-workspaces/